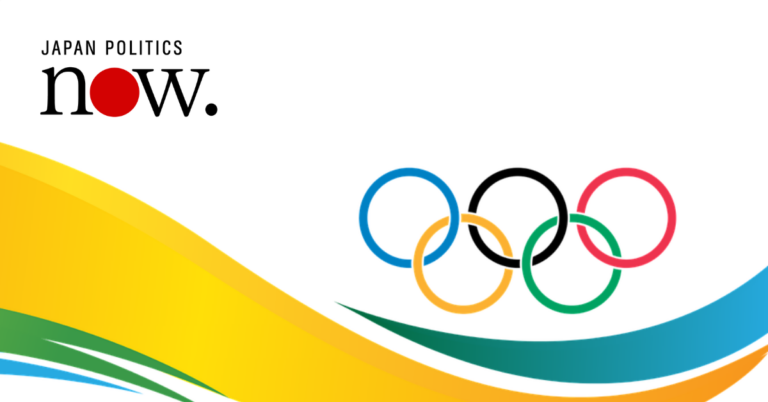 A public opinion poll by Jiji Press found that the support rate for the Cabinet of Prime Minister Suga Yoshihide dropped 3.8 percentage points to a record low of 29.3%. The same poll found that disapproval rose 5.6 points to a new high of 49.8%. The numbers are a warning sign for Suga as the critical Tokyo Olympic and Paralympic games approach.
The numbers could also shake up expectations about the timing of the next lower house election. Politicians, analysts and observers were previously near unanimous in thinking that Suga would dissolve the lower house after the Olympic games, hopefully riding a wave of positivity to victory in a general election. With an electoral win under his belt, Suga would face little resistance winning another term as president of the Liberal Democratic Party, and thereby stay on as prime minister.
That thinking is less certain now. The lower house must be dissolved before October 22, and the dissolution will be followed by an electioneering period. That means that voting for the general election could take place in mid- to late November at the latest. Suga has the option to wait as long as possible to give the government's vaccine drive to make more progress. A more fully vaccinated population will likely look back more favorably on the government's response to the pandemic.
Sign up for monthly updates on the latest political developments impacting your industry in Japan:
That timing, however, comes with risks. Many within the LDP are not confident in Suga's ability to lead the party to victory in an election, and some believe the party would be well served to change its leadership ahead of an election. If Suga waits to dissolve the lower house but his approval rate does not recover, the factions in the LDP may become restive and eager for a fresh face to put before voters. Suga does not have a strong base of support within the party, so he will need to walk these fault lines carefully.
Suga's term as LDP president ends at the end of September, at which point the party will hold a leadership election. The party could decide to delay this — if, for example, an election were in process or imminent — but the timing could provide anxious LDP members the chance they want to find a new leader.
It is not impossible for Suga to remain premier: he must keep the pandemic under control to limit political damage, deftly time the election to maximize any rebound in public opinion, and fend off any leadership challenge for just long enough to show he can deliver results in an election. It will be a difficult, but not impossible, high-wire act.
Friction Grows within LDP with Hayashi Shift
Hayashi Yoshimasa (LDP, HC), an influential figure in the LDP who has held several important portfolios, announced that he plans to move from the Diet's upper house to its lower house and run for the Yamaguchi No. 3 electoral district. This movement will pit Yoshimasa against Kawamura Takeo (LDP, HR), who has held the seat since 1990. Kawamura has also held important positions in government, including Chief Cabinet Secretary and Education Minister. Hayashi said he wants to move to the lower house as he aims to become prime minister. Members of the House of Councillors can become prime minister, but all premiers in the post-war era have come from the House of Representatives.
Langley Insight: Tension has continued to grow within the LDP under Suga's leadership, and Hayashi's move further complicates the picture. Hayashi is a member of the Kishida faction within the party, and Kawamura is a member of the Nikai faction. Nikai Toshihiro, the LDP's longest serving secretary-general, has the authority to give the party's official endorsement to candidates, meaning Hayashi may need to run as an independent against an LDP-endorsed Kawamura. The Kishida faction is eager to support Hayashi, however, after Nikai undermined the Kishida-backed candidate in the Hiroshima by-election in April. Nikai has also courted enemies in other party factions, meaning the rest of the party may be willing to overlook the trouble caused by Hayashi's move. The degree to which these tensions will affect the LDP's overall performance in the next general election remains to be seen, but it is clear the party will face voters being more at odds with itself than at any time in the past eight years.
Komeito Clarifies Position on Separate Surnames and LGBT Rights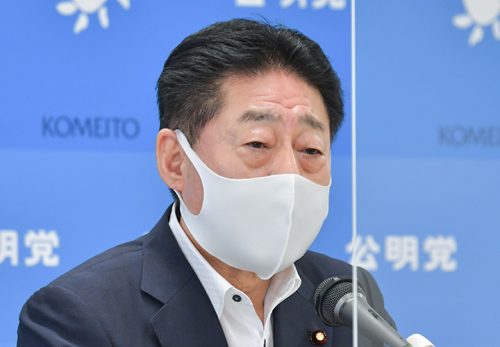 Komeito, the LDP's junior coalition partner, has compiled a draft of its policy platform ahead of the next lower house election. In it, the party said it supports the right of spouses to keep separate surnames, and it supports the passage of laws to promote understanding of LGBT people and other sexual minorities. LDP lawmakers are divided on both of these issues.
Langley Insight: In putting together its platform, Komeito effectively refused to provide cover for the ruling party and made clear that any obstacle to further progress on these issues is the LDP. This leaves the LDP open to attacks from the opposition that it is out of touch with the public consensus.
Noda Seiko Expresses Intent to Run for LDP's Top Spot
Noda Seiko (LDP, HR) said she plans to do her best in the next LDP leadership election, currently set for this fall. Noda consistently tried to challenge Abe Shinzo (LDP, HR) for the party presidency, and thereby the premiership, but she failed to gain a sufficient number of recommendations from other lawmakers to stand in the leadership vote.
Langley Insight: Given her willingness to challenge Abe when he was at his strongest, it is no surprise that Noda would not hesitate to run against Suga. While she has held important positions in government and in the LDP, she has little institutional support within the party, meaning her leadership bid remains a longshot. However, with Suga's approval rating at record lows, the LDP is feeling nervous about the upcoming election. If the party decides to drop Suga ahead of the election and opt for a fresh face, selecting Noda to become Japan's first female prime minister could be an appealing emergency option.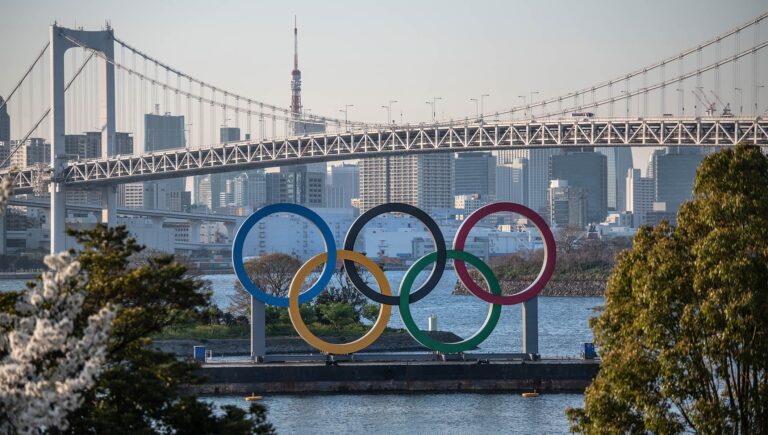 The Tokyo Olympics, an event that could make or break Suga's political future, began on July 23. With the games now underway, a steady flow of stories are appearing daily in domestic and foreign media. Politicians and analysts will be closely monitoring these reports and developments at the games themselves for the next two months.
Langley Insight: Public opposition to the games has waned as the event drew closer, although a dedicated group of people continue to protest in Tokyo. Now that athletes and staff have arrived, however, news reports of coronavirus infections have started appearing in Japanese and English-language media. The number of cases has so far remained low, and there are no indications that infections have spread to the general population. Tension is high as observers watch for leaks in the Olympic "bubble," but public enthusiasm seems to be growing now that competitions have begun. In any event, the Olympics could determine the results of the next election, and they will be closely monitored by all parties.
South Korea's Moon Decides to Skip Tokyo Olympics
South Korean President Moon Jae-in decided against traveling to Tokyo for the Olympic Games and a likely meeting with Suga. The official reason given was that a summit between the leaders was not expected to yield sufficient achievements, although Blue House officials also pointed to an off-color remark made by a Japanese diplomat in Seoul.
Langley Insight: Most of the issues that trouble the relationship between Japan and South Korea remain unresolved, and Korean officials were likely correct in their assessment that little to no progress would be made at a leaders' meeting. Tokyo, for its part, was reluctant to officially promise Moon a meeting with Suga — while also acknowledging that such a meeting would happen if Moon came — in no small part because the chances that Moon would cancel were always high. Politically for Suga, Moon's cancellation represents a pitfall well avoided. Conservatives in the LDP always knew they could trust Abe, but that is not the case with Suga. Extending an official invitation to Moon only to be snubbed would have further undermined Suga when he is already in a precarious position.
After appearing to hold steady in June, Suga's support dropped to new lows in the latest round of public opinion polls. Although Japan's vaccine rollout continues, reports of supply shortages are coming in from local governments across the country. The government's pandemic response continues to be the public's overwhelming concern.
Cabinet: 33% support (-4pp), 46% (+1pp)
Parties: LDP 34.9%, CDP 6%, Komeito 3.3%, Ishin 2.1%, JCP 3.3%, DPP 0.8%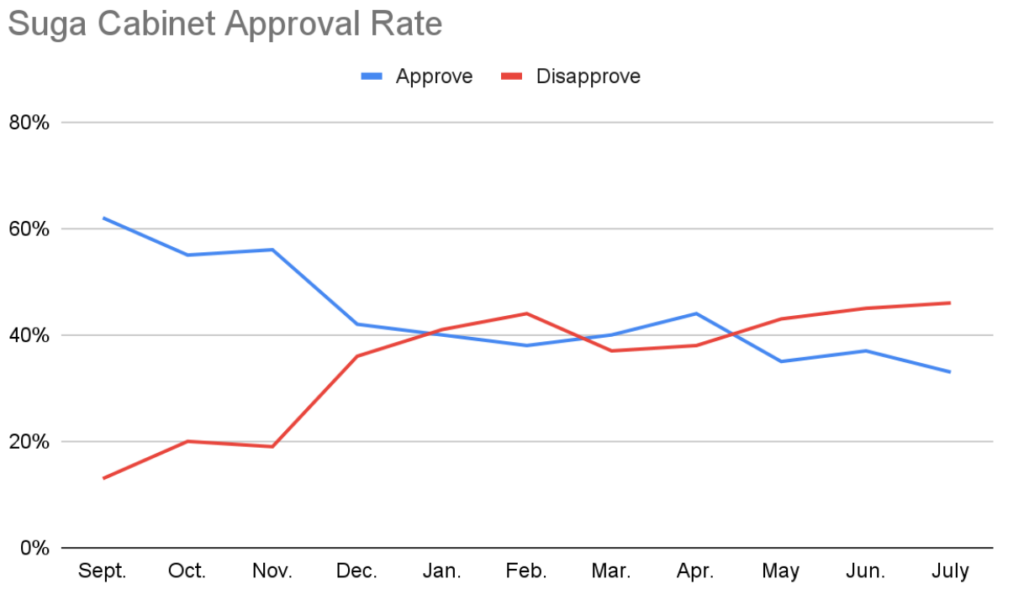 Langley Esquire provides a full range of government & public affairs consulting services, including policy and media monitoring, stakeholder mapping, and government relations. We craft unique solutions tailored to meet our clients' needs across industry sectors.
If you need support in political analysis or engagement with key government stakeholders, contact us to learn more about what we can accomplish for you.
Be the First to Receive Future Updates!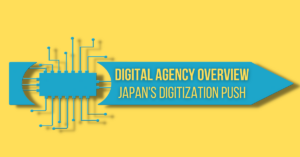 The Digital Agency has been officially launched with the aim of updating the country's outdated digital infrastructure. Will this time be different?
Read More »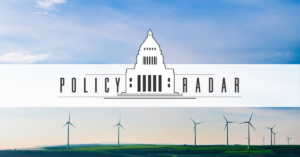 This month's edition of Policy Radar covers developments in Energy, Finance and Cryptocurrency. Month focus is on the land purchase bill.
Read More »
In this series of articles, we examine the Japanese government's push to transform the private sector into a technological powerhouse.
Read More »