The US-Japan Alliance in Global Health: COVID-19 and Beyond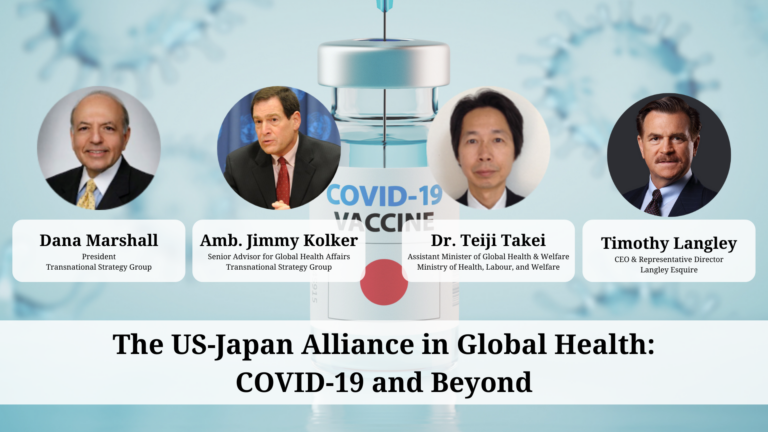 WATCH THE SEMINAR'S RECORDING HERE
The global race to deploy vaccines is underway, and Western countries are rushing to inoculate their populations as their medical systems strain under the burden posed by the pandemic. Vaccines from Russia and China show promise, though some questions linger. In Japan, historical experiences with vaccines have many people adopting a "wait-and-see" attitude, meaning leaders will have to take decisive action to get the population inoculated.
Meanwhile, as countries struggle to bring the pandemic under control, geopolitical tensions between the U.S. and China, the world's first and second largest economies, continue unabated, and vaccine diplomacy has become a growing issue. Businesses around the world are working to develop plans to deal with current and future pandemics.
We were honored to welcome Dr. Teiji Takei, Assistant Minister for Global Health and Welfare at the Ministry of Health, Labour and Welfare, and Transnational Strategy Group Senior Advisor for Global Health Affairs, former Ambassador Jimmy Kolker, to explore these ongoing issues and their implications for U.S.-Japan cooperation in global health. While the new Biden Administration charts a course for the U.S. under the slogan, "America is back," Prime Minister Suga faces growing opposition within the LDP and the public. His political fortunes may depend on the success of Japan's vaccine rollout, led by Minister Kono Taro.
Make sure to watch the video on the following link: https://youtu.be/MbCV2lhysoc 
This was the 3rd seminar in a series presented by Tokyo-based public affairs consulting firm, Langley Esquire, and Washington-based government affairs & international business consultancy, Transnational Strategy Group. Together, the two firms aim to enhance dialogue on bilateral and multilateral issues involving geopolitics, trade, and policy.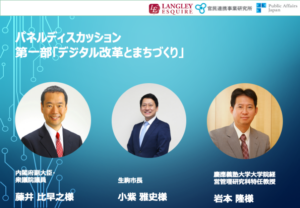 On 11/26/2020, Langley Esquire hosted a seminar, "Solving Japan's Social Issues: the Status of Digital Reform," with our partners Public-Private Collaboration Research Institute and Public Affairs Japan. This event was held in Japanese and featured experts from all sectors of society. They discussed Japan's ongoing push for greater digitization, and what roles the national and local governments, academia and the private sector should play.
Learn more