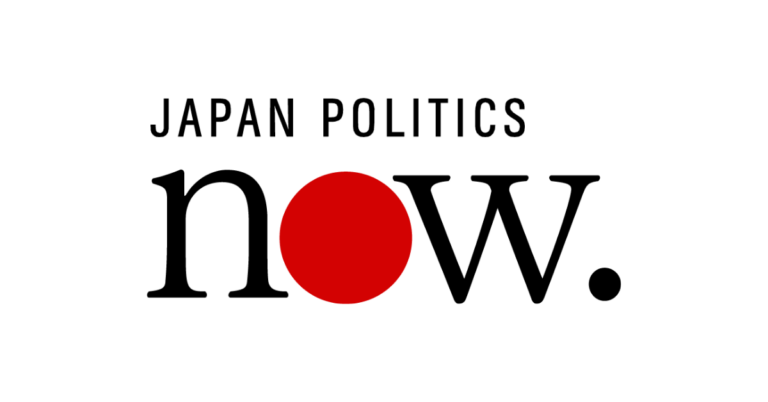 The ruling Liberal Democratic Party (LDP) is moving forward with its plan to set up a "Children's Agency," an organization intended to centralize decision-making on issues related to children's welfare. The party said it would include the issue on its platform for the next lower house election, which must occur by this fall.
The Children's Agency would be meant to address issues such as waiting lists for daycares, bullying, domestic abuse, child poverty and so on. Currently responsibility for these issues is spread across the Ministry of Health, Labour and Welfare, the Ministry of Education, Sports, Science and Technology, and the Cabinet Office.
Like the Digital Agency, the idea of consolidating dispersed government services into an ad hoc organization fits the Suga administration. The new organization would be another example of the administration trying to break down the stove-piping that has hindered administrative reform. A Children's Agency would also tackle issues that more directly affect a large number of people, so it may prove to be electorally popular. However, like the Digital Agency, the legal processes to create a new organization will prove challenging, and the affected government agencies will likely resist ceding any authority to a new agency.
Sign up for monthly updates on the latest political developments impacting your industry in Japan:
While the plan may prove popular, it faces a number of obstacles. Most significantly, the COVID-19 pandemic is still not under control in Japan, and the government's vaccine rollout has been relatively slow. Any further deterioration in public health conditions, or a collapse of the medical system, would overshadow the creation of a new government organization. Additionally, the LDP group in charge of establishing the new agency is headed by LDP Secretary-General Nikai Toshihiro. As perhaps the most representative member of the LDP old guard, Nikai may not prove to be a particularly charismatic communicator on issues related to children's welfare.
If the vaccine program proceeds as expected, however, COVID-19 numbers should be falling as autumn approaches. That would set the stage for the LDP to highlight other topics, and children's welfare is invariably popular. The opposition parties, perhaps sensing this, have asked the LDP to work with them as it moves forward in creating the new organization. But as long as it has the support of its junior coalition partner Komeito, it is not clear that the LDP has much incentive to work with its political opponents.
LDP Group Prepares Bill Promoting Understanding of LGBT Issues
An intra-party group headed by Inada Tomomi (LDP) within the LDP has prepared draft legislation calling on the government to "broaden understanding" of LGBT issues and lifestyles. The group called on both ruling and opposition parties to pass the bill during the current Diet session. 
Langley Insight: Public opinion polls have shown that support for LGBT issues, such as same-sex marriage, has grown steadily, including among LDP supporters. The LDP's bill is not particularly ambitious — the opposition Constitutional Democratic Party previously proposed banning discrimination by government organizations — but it represents the ruling party's first attempt to address LGBT issues at the national level. If politicians drag their feet, they risk looking inefficient as local and prefectural governments move ahead with partnership arrangements and other measures. Some in the LDP still oppose greater support for LGBT individuals, worried that it may alienate socially conservative voters and ideals.
Komeito 'Completely in Favor' of Separate Surnames for Spouses
Yamaguchi Natsuo (Komeito), leader of the LDP's junior coalition partner, said at an event in Tokyo that Komeito is "completely in favor" of allowing spouses to have separate surnames. He added that a policy allowing for separate names was not in place because of opposition from the LDP. The law requires that spouses share a surname, and in most cases women adopt their husband's name.
Langley Insight: The surname issue has become symbolic of broader gender disparities in Japan, and opinion polls show that a majority of Japanese support allowing for different names. With the LDP's coalition partner voicing its support of a change, the ruling party may face more pressure to come up with its own unified position. This would put it in something of a dilemma — allow for separate names and risk alienating its conservative supporters, or stick with its base and risk seeming out-of-touch. The LDP currently has a working team collecting opinions on the topic from party members.
Chiba Voters Reject LDP in Gubernatorial Election
Kumagai Toshihito emerged victorious in Chiba Prefecture's gubernatorial election in March, the first winner in 12 years who has not belonged to the LDP.
Langley Insight: Kumagai's victory was aided by poor coordination between local LDP organization and the national headquarters, as well as restrictions on large gatherings because of the COVID-19 pandemic. However, it also represents voters' displeasure with various scandals that have involved LDP politicians flouting COVID-related regulations and improper socializing with ministry bureaucrats. His win also increases the importance of by-elections in Hiroshima and Nagano prefectures on April 25. If the LDP fails to win at least one of those, the Suga administration's electoral prowess will come into question.
LDP Endorses Ishin-Backed Candidate for Hyogo Governorship
The LDP has endorsed Saito Motohiko, who had already received the support of the opposition Nippon Ishin no Kai, for the Hyogo governorship. Rather than fielding its own candidate as recommended by the Hyogo prefectural LDP, the national headquarters chose to join Ishin in supporting Saito. Saito welcomed the LDP's endorsement.
Langley Insight: Although Ishin is a part of the opposition, it has a significant degree of ideological overlap with the LDP, especially on regulatory and economic issues. It is highly unlikely that Ishin would join the ruling coalition, but the national LDP may be looking to peel Ishin away from the rest of the opposition to gain its support for policy initiatives like the Suga administration's Digital Agency.
Lower House Election Unlikely Before Autumn
Prime Minister Suga Yoshihide set off a spate of speculation on a television program that he may dissolve the House of Representatives after his meeting with U.S. President Joe Biden. However, subsequent comments and the recent spike in COVID-19 cases have effectively taken the option of a snap election before fall off the table.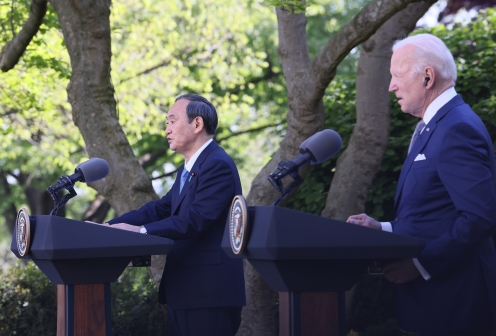 Prime Minister Suga Yoshihide Meets with U.S. President Joe Biden in Washington
Prime Minister Suga flew to Washington to meet with U.S. President Joe Biden, the first foreign leader to meet with the U.S. leader in person since his administration was inaugurated in January. The joint statement released after the meeting highlighted "the importance of peace and stability across the Taiwan Strait," as well as the human rights situations in Hong Kong and Xinjiang.
Langley Insight: Suga is the first leader to meet in person with the U.S. president, an honor usually reserved for the prime minister of the U.K. The change is meant to signal the U.S. administration's focus on Asia and its support for the U.S.-Japan alliance after the turbulent foreign policy of President Donald Trump. For Suga, the diplomatic upgrade is likely to pay some political dividends as most Japanese, and LDP members in particular, support strong U.S.-Japan relations. It is unlikely, however, that Suga will receive a significant enough boost to call a general election, and the fate of his administration beyond fall remains unclear.
Cabinet Approves Decision to Dump Fukushima Wastewater into Sea
The Cabinet finalized a decision to discharge wastewater from the Fukushima Daiichi nuclear power plant into the ocean, drawing protests from China and South Korea. The water has been treated to remove most contaminants, according to Tokyo Electric Power Company, but the utility is unable to remove tritium, a radioactive form of hydrogen. The decision, which is deemed necessary for the continued decommissioning of the plant, is supported by the International Atomic Energy Agency (IAEA). The IAEA said it is ready to provide technical support and monitoring, and that the plan is "in line" with international standards. Seoul is considering filing a protest at the International Tribunal for the Law of the Sea.
Langley Insight: The reactions in Beijing and Seoul likely stem from political rather than scientific concerns. The South Korean government had previously determined the release would not pose any scientific issues, and the amount of tritium in the treated water is similar to that released from South Korea's own nuclear plant. The governments in Beijing and Seoul are likely looking to rally political support by criticizing the decision, especially after South Korean President Moon Jae-in's political party was routed in mayoral elections in South Korea's two biggest cities. Japanese fishermen in the Fukushima have also protested the decision, so it is uncertain whether international criticism will provide a "rally-around-the-flag" effect for the Suga administration.
The drop in the Suga Cabinet's support appears to have bottomed out, and it is experiencing a modest rebound. At the same time disapproval appears to have plateaued. Japan's vaccine rollout is proceeding slowly, but if inoculation numbers ramp up by fall, the public may be more forgiving of the government's slow start.
Cabinet: 44% support (+4pp), 38% do not support (+1pp)
Parties: LDP 37.4%, CDP 6.3%, Komeito 4.1%, Ishin 1.5%, JCP 2.7%, DPP 0.7%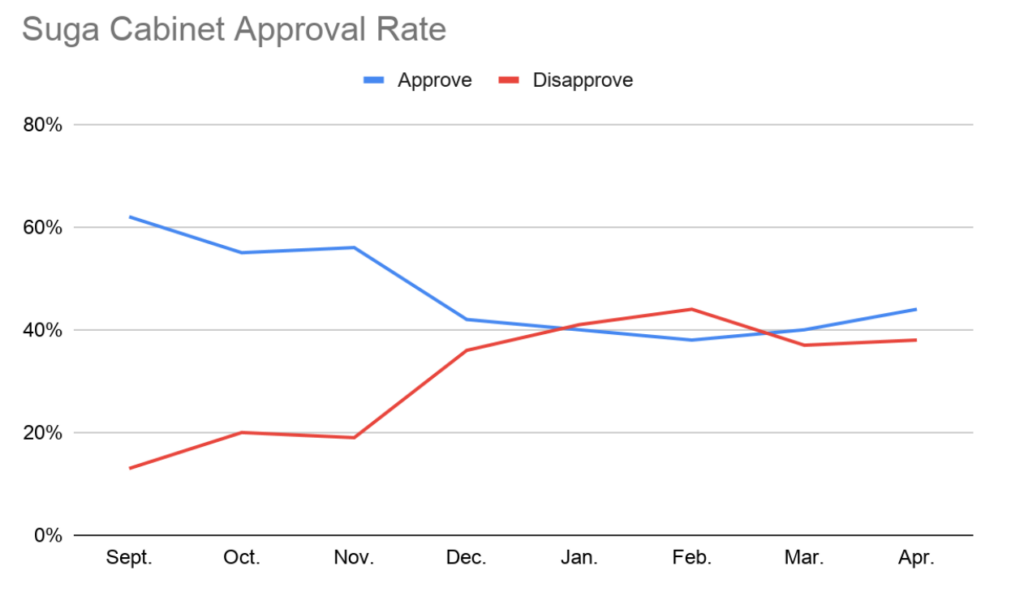 Langley Esquire provides a full range of government & public affairs consulting services, including policy and media monitoring, stakeholder mapping, and government relations. We craft unique solutions tailored to meet our clients' needs across industry sectors.
If you need support in political analysis or engagement with key government stakeholders, contact us to learn more about what we can accomplish for you.
Be the First to Receive Future Updates!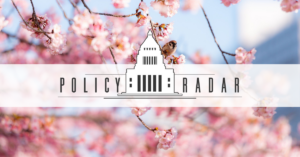 This month's edition of Policy Radar focuses on policy and government developments in Healthcare, Data, Defense and Technology.
Read More »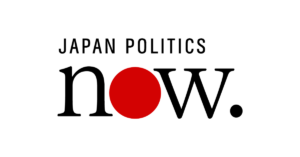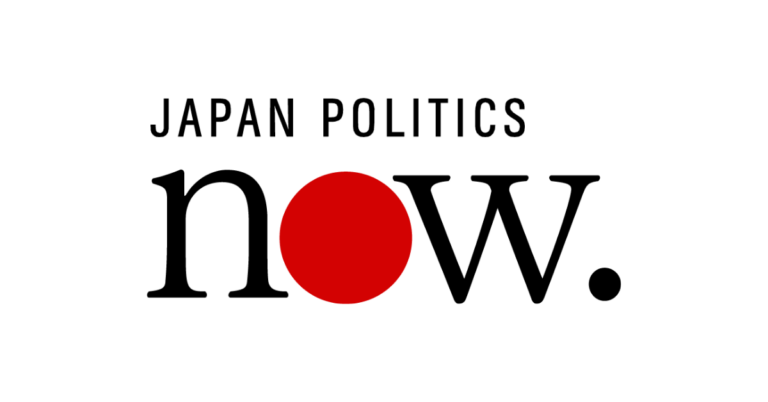 In Japan Politics Now, we aim to bring you Japan's latest political developments, both foreign and domestic, and explain in brief why they matter.
Read More »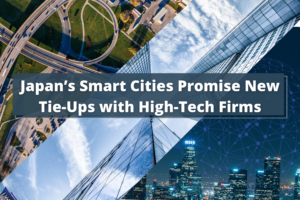 In June the Japanese Diet passed legislation governing the creation and management of smart cities — urban centers that use cutting-edge technology to improve livability and convenience.
Read More »