On April 16, Japanese Prime Minister Suga Yoshihide is set to become the first leader to physically meet with U.S. President Joe Biden since he took office in January. Arrangements are still being made, but the two leaders are expected to discuss a wide range of issues, including the denuclearization of North Korea, human rights in China, measures to contain Beijing's maritime assertiveness in the region and initiatives to maintain a "free and open Indo-Pacific." It is reported that both leaders will affirm that the Senkaku Islands (Diaoyu) fall under the scope of Article 5 of the Japan-U.S. Security Treaty. Likewise, they will also condemn North Korea's ballistic missiles test in a joint statement after the summit. Other issues, like semiconductor supplies, are also likely to come up, as the U.S. administration has initiated a review of the global supply chain of semiconductors. It is asking countries like Japan and South Korea for their cooperation.
The Prime Minister has also said he is willing to meet with the North Korean head of state, Kim Jong Un. The American side has indicated it is unwilling to meet the North Korean leader in the near future. Chief Cabinet Secretary Kato Katsunobu is hopeful that such a meeting would focus attention on the issue of Japanese nationals abducted by North Korea. Suga's openness stems from his predecessor's foreign policy, which included a willingness to meet his foreign counterparts without any preconditions. No preparations are being made, as of now.
Sign up for monthly updates on the latest political developments impacting your industry in Japan:
Suga's trip to Washington will last for three days. It will be an excellent opportunity for the Prime Minister to show off his foreign policy chops, an area where he has yet had little opportunity due to the novel coronavirus pandemic and his "lack of expertise" in international relations.
Suga has taken on different domestic priorities than his predecessor, Abe Shinzo, but he has closely hewed to the Abe administration diplomatic positions. Nevertheless, the trip will offer Suga a chance to shift attention from domestic politics and local electoral dynamics to the international realm. His image will also benefit from being the first foreign leader to meet with the U.S. President. Foreign policy is often a useful distraction when domestic politics are not going well.
This month's edition of Policy Radar covers developments in Healthcare, Defense, Technology, Data, Finance and Cryptocurrencies.
Cabinet Approves Bill Restricting Foreign Access to Land Purchases
The government has approved a bill that imposes stricter regulations and controls on the purchase of land near military bases or critical infrastructure by foreign entities. The bill stipulates that the government must be notified before any such land purchase is completed in specially monitored districts. Monitoring zones will be about 1 km around designated facilities or infrastructure critical to national security. The government will be able to impose restrictions on the use of the land. If the law is approved, the government will be able to ask local governments and businesses about the foreign buyers' personal information (name, address, nationality, use of the land etc.) contained in the real estate registry. If the government finds an improper use of the land, it will be able to order the land usage suspended and impose a fine if the order is ignored. Currently there are no legal bans, limits or controls on the purchase of land by foreign nationals or entities, regardless of their status in Japan. Chief Cabinet Secretary Kato has defended the bill, saying it is necessary for national security. The government is worried about the security implications of purchases of land too close to military bases, whether American or Japanese, and of remote islands. The law follows the recommendations of an expert panel focused on the national security implications of foreign acquisitions.
Langley Insight: Komeito, the LDP's junior coalition partner, was initially worried about the impact of the law on private rights and economic freedom. However, it came on board after the LDP agreed to reduce the number of areas to be subject to government restrictions. Komeito has also succeeded in ensuring urban areas are excluded from government monitoring, unless such a designation is deemed reasonable. The special monitoring zones will only be designated after the Diet passes the bill. A provision over concerns relating to the violation of privacy rights is included in the legislation. The main opposition parties have said they will oppose the bill, and the constitutionality of the bill itself is unclear. Their main worry is about the access of personal data.
Japan to Issue Digital Vaccination Passports Despite Discrimination Fears
Japan is ready to issue digital health certificates to citizens who have received a COVID-19 vaccine. In line with international standards used by China and the EU, the digital health certificate will be managed through a mobile application, allowing travellers to show proof of inoculation at airports or other places. Kono Taro, minister in charge of vaccination efforts, has said the digital health passport is to allow citizens to travel overseas. However, some in in the House of Councillors have voiced concern, citing discrimination toward to who do not get or are not yet vaccinated. Health Minister Tamura Norihisa also worried that health passports could lead to discrimination. The minister has reassured members of the upper house by saying that the use of such digital certificates will only be for travelling abroad and not for travel within Japan. Additionally, All Nippon Airways is currently trialing the CommonPass app to verify negative test results. The government plans to have the app issue COVID-19 vaccination certificates as well.
MHLW Delays My Number Card Use for Health Insurance
MHLW will delay the comprehensive introduction of a framework that allows for My Number cards to be used as public health insurance cards. The ministry had initially planned to launch an online system in late March. Under the framework designed by the Health Ministry, medical institutions and pharmacies will be able to scan My Number cards using a card reader and facial recognition technology to verify patients' identity and check their treatment eligibility. The government will provide facial recognition card readers and subsidies to change computer systems of up to ¥2.1 million for hospitals and ¥430,000 for clinics and pharmacies. However, a trial at 54 medical institutions and pharmacies in 24 prefectures saw a number of cases where people were not able to confirm their personal data. Trials showed instances where records did not match or did not exist. The errors arose because health insurance associations incorrectly entered people's information. MHLW will gradually increase the number of medical facilities in the trial phase, but only 54 out of the 500 designated institutions actually participated. The ministry argues that the use of the new cards will drastically simplify administrative procedures and has pushed back its introduction back until October.
Langley Insight: Medical facilities are reluctant to change their administrative procedures for a card used by only 25% of the population. Only 31% of 228,000 medical institutions have so far applied for the system. The National Insurance Medical Institution is opposed to the use of My Number cards for health insurance because of risks of personal data being leaked. The National Federation of Health Insurance Societies has also so far opposed the change, and asked for the introduction date to be pushed back to avoid confusion. The Japan Medical Association also backed a delay in the introduction of the government's plan, as government funds need to be directed to pandemic relief instead of efforts to digitize. The LDP is willing to eliminate health certificates by transferring information into My Number cards.
Japan's Record Budget Clears Parliament
The parliament approved a record 106.6 trillion yen budget for the fiscal year that started April 1, marking the third consecutive year the budget has surpassed 100 trillion yen. Along with an additional 5 trillion yen allocated to an emergency fund for the pandemic, record high expenditures on social security (35.8 trillion yen) and defense (5.3 billion yen) have contributed to the budget reaching record high levels. Concerning the Suga administration's policy priorities, 298.6 billion yen has been allocated to digital reforms, 466.3 billion yen for achieving carbon neutrality by 2050, and 2.3 billion yen for expanding subsidies for infertility treatment. In contrast, tax revenue is expected to be 57.4 trillion yen, 6 trillion yen less than in the initial budget for fiscal 2020. While the government foresees revenue increasing by 2.3 trillion yen for this year, it is unclear whether corporate earnings and consumer spending will recover with no end of the pandemic in sight. With the government's long-term debt set to reach 990.3 trillion yen by the end of FY2021, the Finance Ministry is determined to return the country's primary budget balance to surplus by fiscal 2025, meaning it is reluctant to pursue further spending. That could lead the world's third-biggest economy to lag in recovering from the pandemic.
Government Agencies Temporarily Suspend Line Use Over Security Issue
The Ministry of Internal Affairs and Communications (MIC) and Cabinet Secretariat announced they would temporarily suspend the use of major messaging app Line. Line Corporation acknowledged that the personal information of its 86 million users in Japan was accessible to its Chinese affiliate company, raising concerns about overseas exposure of information among the government and political parties. A working group formed by the MIC, the Financial Services Agency, and the Personal Protection Commission will be established to standardize the individual operational guidelines for each government ministry before the service can be used again. The data mismanagement scandal has caused upheaval in the public sector, which has increasingly used Line. The software is used daily by 86% of the population. 200 municipalities had planned to accept reservations for COVID-19 vaccinations through Line, but some mayors have indicated that they will suspend the use of the app until security issues are addressed. In response, Line has announced an end to its services in China, and that it will transfer its data centers to Japan by the end of 2021. Following the incident, many providers, including KDDI, have also announced they would localize data centers ahead of revisions to the Act on the Protection of Personal Information (APPI) that will require the name of the country where the data has been relocated to be identified. Those revisions will come into effect in Spring 2022.
Bank of Japan Forms Committee to Coordinate Central Bank Digital Currency Efforts
With the People's Bank of China's digital yuan (DECP) project in public trial stages, the Bank of Japan (BOJ) is preparing for a change in prevailing financial conditions, which see the yen as a safe-haven currency. The BOJ launched the Liaison and Coordination Committee on Central Bank Digital Currency (CBDC), which will begin experimentation with the concept from April. The experiment will consist of three stages: the proof of concept is scheduled to be completed by the end of FY2021, and the developmental phases to be completed by FY2022. The final stage will see a pilot in which private businesses and individuals will test the use of the digital currency. Since last December, the Digital Money Promotion Project Team within the LDP's Financial Research Council have been calling for accelerated efforts to issue a digital currency as China attempts to internationalize its digital yuan. But the BOJ has been cautious, waiting to see how the FRB and ECB will respond and citing a lack of public demand for a CBDC.
Langley Insight: Nevertheless, a CBDC will increasingly become necessary as the government seeks to bolster Japan's digitization and use of cashless payments. A highly secure and common platform for handling the BOJ's digital currency will enable a standardized use of digital money settlement services, which are currently split among a myriad of existing digital payment options, as well as new localized digital currencies like Setagaya Pay from Tokyo's Setagaya Ward and Mina Coin by Minamishimabara in Nagasaki Prefecture. As the Labour Policy Council within the Ministry of Health, Labour and Welfare discusses the introduction of the digital payroll delivery options that will see the widespread use of digital currency akin to cash within FY2021, the government will need to once again reconsider its use of digital money. Yet, with major unions, including the Japanese Trade Union Confederation, against the proposed digital payroll, progress may be slow.
METI Sets Up Study Group to Examine Semiconductor Supply Chains
The Ministry of Economy, Trade and Industry has this week set up a study group to look at Japan's semiconductor industry, inviting experts, chipmaker executives and officials. It will carefully examine the global supply chain in the age of the pandemic, automobile production issues (related to the lack of semiconductors) and recent events that have hindered Japan's capacity to produce semiconductors. The study group will identify and propose medium- to long-term policies to strengthen Japan's position in the global supply chain. At the first meeting, ministry officials presented proposals to boost domestic semiconductor production as part of efforts to address a shortage of chips. The proposals called for the joint development and production of chips with foreign companies to improve Japan's status as a manufacturer of advanced semiconductors. Minister Kajiyama Hiroshi said at the study session that METI is ready to take drastic steps to strengthen the competitiveness of the Japanese semiconductor industry. He also argued for more ambitious steps, including larger subsidies, in response to financially larger plans coming from the EU and U.S. to attract semiconductor companies.
Last but not least, following a fire at a semiconductor plant last month in Ibaraki Prefecture, METI has asked for cooperation from manufacturers to alleviate the effects of the fire, which will disrupt production for about 3 to 4 months. The ministry will also assist in replacing the 23 machines that were damaged by the fire.
Langley Esquire provides a full range of government & public affairs consulting services, including policy & media monitoring, stakeholder mapping, strategic communications, procurement and government relations. We craft unique solutions tailored to meet our clients' needs across industry sectors including technology, energy, healthcare, finance, transportation & infrastructure, defense, and beyond.
As the outbreak of the COVID-19 pandemic continues to bring unprecedented impact around the world, public and private sectors rush to adapt to a rapidly-changing global environment. While there is uncertainty for what lies ahead, new opportunities emerge for public-private partnerships. Every day brings new insights, opportunities, and technology that affect Japanese politics, business, and society.
If you are struggling to make sense of policymaking and engage your key stakeholders across government, media, and academia, contact us to learn more about what we can accomplish for you.
Be the First to Receive Future Updates!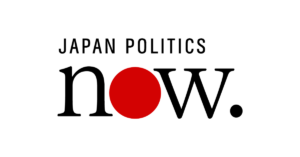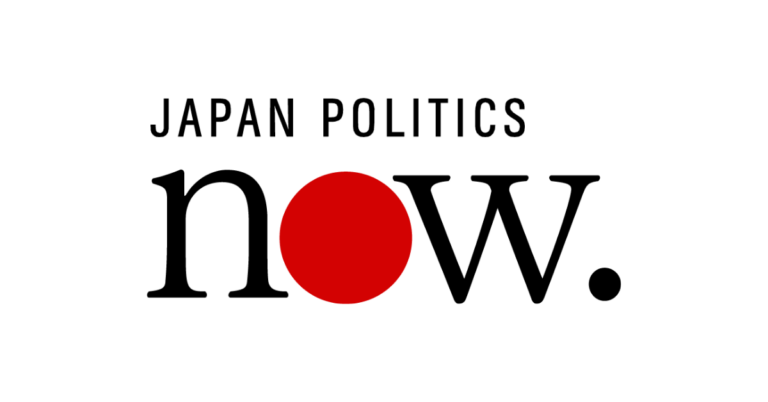 In Japan Politics Now, we aim to bring you Japan's latest political developments, both foreign and domestic, and explain in brief why they matter.
Read More »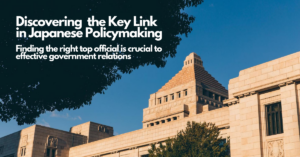 Understanding and accessing the civil service is crucial to successful government relations in Japan. Career bureaucrats at the government agencies and ministries are among the most influential policymakers in the country.
Read More »