This month's edition of Policy Radar covers developments in Energy, Finance and Cryptocurrency. This month's focus is on the recently approved land purchase law.
Month Focus: Japan to Revise Law on Oversight of Foreign Investment in Critical Sectors
The government is currently drafting revisions to legislation so as to further control and oversee industries and technologies critical to economic security. The government hopes to introduce more industries for oversight and mechanisms of control through the current laws on foreign exchange and foreign trade. Both laws regulate how and whether foreign capital can be invested in Japanese companies. The targeted industries this time are broadcasting, aviation, telecommunications and banking.
The government also hopes to include policies to secure the supply chains of four products critical to national security: semiconductors, rare earths, medical supplies and batteries for EVs. This will be done through further cooperation and communication among agencies and ministries. It is hoped that including these sectors will prevent the outflow of technology and information of strategic technologies outside of Japan. The government will also draw up concrete incentives and subsidies to support supply procurement from allied countries.
The draft of the revisions will be discussed within the Liberal Democratic Party, as well as by officials from the Finance Ministry, Financial Services Agency and METI. All of these bodies are involved in the implementation of the foreign exchange law, specially when overseeing foreign investments. Officials from the ministry of communications and the ministry of land will also be involved.
However, some in the LDP feel that this is not enough. METI Minister Kajiyama Hiroshi has said that corporations key to national economic security require government protection from activist investors. The minister said that the government will study measures for cases in which a business' operations and research and development are threatened by foreign shareholders. METI is worried that the country's current foreign investment rules under the Foreign Exchange and Foreign Trade Act are not sufficient to protect the activities of major domestic enterprises.
Sign up for monthly updates on the latest political developments impacting your industry in Japan:
A revision of the law came into effect just last year, allowing the government to review deals with foreign companies in sectors crucial to national security when the purchase amounts to 1% or more in a domestic company. Foreign influence in the governance of these companies is also strictly scrutinized: the appointment of directors and proposals to sell operations by foreign investors require the Finance Ministry's prior approval. However, the law only allows for review and screening before the purchase; regulators cannot intervene after the deal is carried out if new issues arise.
The LDP is also pushing to introduce a "secret patent system," whereby patent applications will remain sealed from the public for a specific period of time for products used for military purposes.
The Cabinet is looking to introduce the bill to parliament in the next ordinary session that begins in January 2022. However, even if the revisions are passed it will be a challenge to determine the rate of foreign penetration in certain industries and companies. It is hoped that with the new plan the government will be able to assess and control new investments and acquisitions to a larger extent, but calls within METI might push the government to regulate critical industries even more.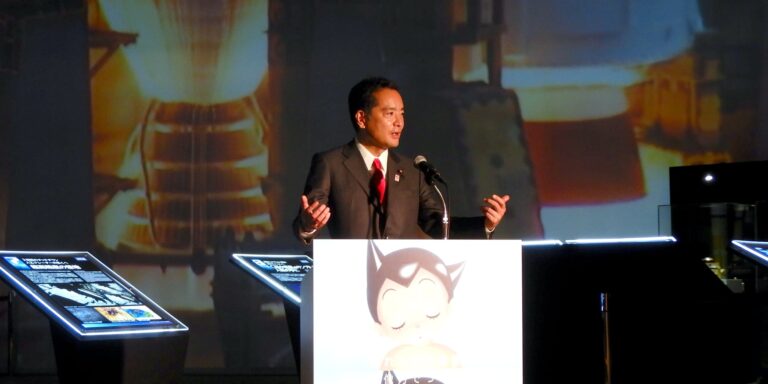 Government Holds Society 5.0 Exhibition to Show Technological Developments
The Prime Minister's Office co-hosted an exhibit dedicated to "Society 5.0," showcasing a future society that is integrated with cutting-edge technology and science. The government displayed Japan's latest scientific achievements and technological developments, as well as a vision of society in 2030 assuming targets from the government's new five-year basic plan for science, technology and innovation are met. Items displayed in Tokyo's Sky Tree ranged from equipment for use in the sea to space and mostly all publicly-funded. The event was mostly geared toward international visitors, but it is also possible to view it virtually. The government is keen to promote its vision for Society 5.0 overseas. It defines Society 5.0 as "a human-centered society [helped] by a system that highly integrates cyberspace and physical space." The government feels that Japan has lost its global competitiveness, especially in telecommunications, as demonstrated by the 5G deployment in other countries. This is why the government is investing in programs to promote post-5G research and development, as well as facilitating the testing of leading technology through pilot programs. State Minister of Science and Technology Policy Inoue Shinji highlighted the need for further market deregulation to facilitate cutting-edge technology. The event will run until September 5.
Langley Insight: The government is serious about advancing technological innovation, cutting-edge technologies and digitization. With less than a month to go before the establishment of the Digital Agency on September 1, the government is creating measures to support research and development in numerous industries as well as protecting Japanese innovation. But the government is worried about the state of Japanese innovation on the world stage, where its prestige has been falling over the last decade, according to a report from the Cabinet Office. A number of subsidies have been made available for developments aimed at a post-5G society and making Japan a more attractive innovation hub, notably for semiconductors and telecommunications. However, these still fall short of assistance being discussed in the EU, the U.S. and China. The previous five-year basic plan for science, technology and innovation contained 26 trillion yen, a quantity deemed insufficient for the government's goals. The government is now ready to provide 30 trillion yen for the recently approved plan.
METI Mulls Using 2 Trillion Yen Fund for Power Semiconductor R&D
At a meeting of the Industrial Structure Council, an advisory body to METI, members proposed that a part of a 2 trillion yen fund be used to support the development of decarbonization technology, such as power semiconductors. The Industrial Structure Council hopes that research and development to mass produce new materials will help semiconductors, and the products in which they are used, to become more energy efficient. Specifically, it has requested research on silicon carbide (SiC) and gallium nitride (GaN), used in semiconductors, and further production of these materials to lower their market prices. It also recommended using the 2 trillion yen fund to promote energy saving palms in data centers. METI is now considering the council's proposal. There is also the "technology development business to strengthen the manufacturing base of energy-saving electronics" fund, consisting of 2.13 billion yen to strengthen the manufacturing base of energy-saving electronics. Its emphasis is on next-generation power semiconductors, "intelligent power semiconductors" and semiconductor manufacturing equipment.
Langley Insight: The government has been getting serious about its carbon neutrality goal since it announced Japan would become carbon-neutral by 2050. It intends to cut emissions by at least 46% from 2013 levels by 2030 (double the target in the 2018 Energy Basic Plan). As a part of that effort, the government is tying both the digital and energy fields to green and digital growth strategies. This can be seen in numerous areas, including semiconductors and, more specifically, power semiconductors. The proposal described above is a result of the government's growth blueprint, which posited semiconductors as "essential to technological innovations geared towards decarbonization." For the first time, they have been categorized as global strategic goods, meaning that they require additional government assistance. By the end of the decade, the strategy (approved two months ago) calls for Japan to hold a 40% global share in next-generation power semiconductors. Until 2025, the government will focus on capital expenditures and drawing up an investment plan for semiconductor production sites.
Government Approves Guidelines with ¥4.4 Trillion for Green Growth
The Cabinet approved budget guidelines for the 2022 fiscal year, reserving around 4.4 trillion yen for green growth policies. The funds are a part of the government's goal of reaching carbon neutrality by 2050. Finance Minister Aso Taro believes that funds must be prioritized for areas where economic growth is deemed as important, including green growth. The total amount of the budget request is expected to surpass 100 trillion yen (106.61 in total) for the eighth consecutive year, with no spending cap. To reduce the fiscal deficit, the government plans on reducing the rise in social security spending to 660 billion yen. The green growth strategy, digitization, revitalizing regional economies and supporting child-rearing households are the four areas the Finance Ministry is planning to focus on in the next budget. Investment in the green growth strategy is expected to increase the use of renewable energy, hydrogen fuel, carbon recycling and digital infrastructure. By investing in digital infrastructure, the government hopes to tackle climate issues, create more jobs, and increase technical expertise and opportunities in the IT realm. Ministries and agencies will issue budget requests by the end of August.
BOJ Discuss Climate Change Fund and Investment Programs
The Bank of Japan (BOJ) met to discuss the impact of a new funding program aimed at tackling climate change. The funding program is expected to be established by the end of the year and is set to run until March 2031. It will offer zero-interest funds to financial institutions making loans and investments to spur the fight against climate change. A number of BOJ policy-makers expressed the need for an in-depth economic impact analysis of the new funding program. One BOJ member argued for the new funding program by noting that the funding would lead to sustained and positive efforts for stabilizing macroeconomy over the long-run. The same member argued that the measures are appropriate as they take into account both market neutrality and policy flexibility. With the new program, the BOJ has joined other European central banks in giving more consideration to climate change when drafting monetary policies. BOJ Governor Kuroda Haruhiko defended this new position by suggesting that climate change will have a far-reaching impact on the economy in the future, and the BOJ should not wait for the private sector to act alone. However, the governor dismissed the idea of prioritizing the purchase of green bonds issued by companies as a part of the BOJ's monetary easing program. The BOJ has yet to determine what types of investments or loans will be considered "green." The bank has emphasized the need for further analysis and research on the impact of climate change on the economy.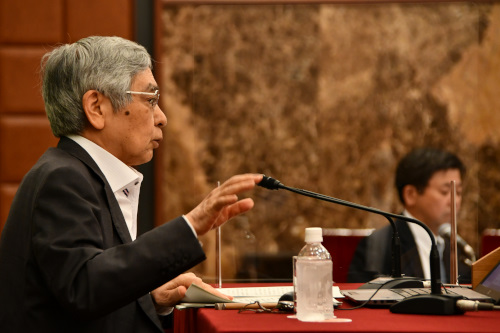 Japan to Launch System with TV Airwaves Used for 5G Communications
The communications ministry is planning to launch a new system that allows for live television airwaves to be used for 5G communications during this fiscal year. Through the new system designed by the Communications Ministry to facilitate the deployment of 5G, the number of frequency bands available will be expanded for the use of mobile phone carriers. Airwaves which are not frequently used, such as those from sport matches, disasters and other events will be replaced momentarily. The new system is a consequence of a revision to the radio law last year, which allows for the use of television airwaves outside of broadcasting services. For now, the ministry has started consulting industry officials so as to draft a ministerial ordinance amendment putting into effect last year's revisions. Once the ordinance is passed, the ministry will open an application process for businesses wanting to use the unoccupied frequency airwaves. However, whilst it is expected that major telecommunication operators will apply for a license, the communications ministry will likely accept one to two companies only. The full-fledged 5G services started March last year, which led to 14.9 million subscriptions as of March 2021. Although the 5G subscription numbers are small compared to the 154.37 million 4G subscriptions, 5G network subscriptions are expected to significantly increase as they replace 4G.
Japan to Work with US and EU in Fighting State-Subsidized Imports
Japan's trade ministry will work with the U.S. and EU to develop countervailing measures accepted by the WTO, such as tariffs against subsidized imports sold domestically at unreasonably low prices. It is recognized that low price subsidized imports hurt the domestic market since domestic industries cannot compete. Requests for countervailing duties are quite complicated because of the amount and difficulty of the processes involved. Solicitors show difficulty in demonstrating that imported products were subsidized since there is a lack of disclosure by foreign authorities. Unlike Japan, both the U.S. and EU are experienced with requesting countervailing duties. Thus, trade investigators from Japan, the U.S., EU, Australia, and Brazil will propose a framework for cooperation this fall. The WTO has been discussing banning a broad range of industrial subsidies, but no action has been taken from the international organization. The 5-party proposals would help with current and future challenges against what are considered "unfair industrial policies" by discussing how to deal with these problems and sharing investigation methods collectively. Additionally, Japan plans to hold bilateral meetings with the U.S. and EU on the topic of countervailing measure requests. However, Japan will start by asking domestic industries to determine products that frequently face tariffs in other countries (i.e. Chinese and South Korean steel). Japan's trade ministry will come up with recommendations by early September to help make the process easier for businesses. Application guidance from the ministry will be released by the end of this fiscal year.
Langley Esquire provides a full range of government & public affairs consulting services, including policy & media monitoring, stakeholder mapping, strategic communications, procurement and government relations. We craft unique solutions tailored to meet our clients' needs across industry sectors including technology, energy, healthcare, finance, transportation & infrastructure, defense, and beyond.
As the outbreak of the COVID-19 pandemic continues to bring unprecedented impact around the world, public and private sectors rush to adapt to a rapidly-changing global environment. While there is uncertainty for what lies ahead, new opportunities emerge for public-private partnerships. Every day brings new insights, opportunities, and technology that affect Japanese politics, business, and society.
If you are struggling to make sense of policymaking and engage your key stakeholders across government, media, and academia, contact us to learn more about what we can accomplish for you.
Be the First to Receive Future Updates!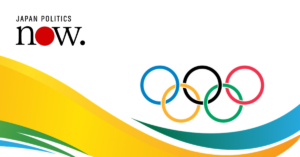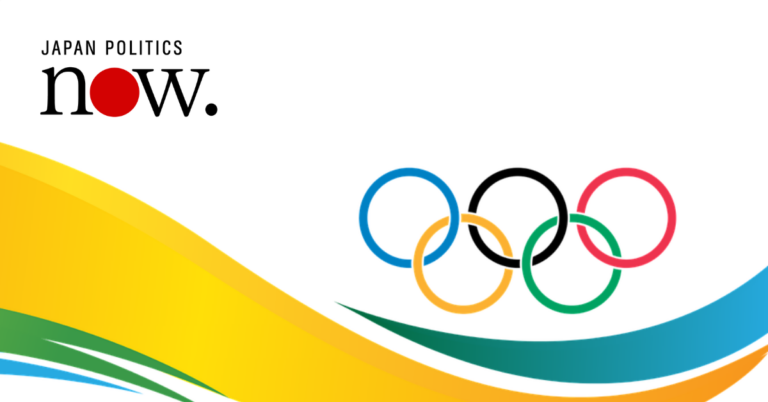 In Japan Politics Now, we aim to bring you Japan's latest political developments, both foreign and domestic, and explain in brief why they matter.
Read More »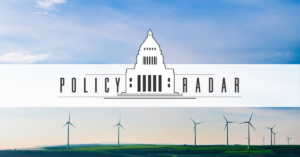 This month's edition of Policy Radar covers developments in Energy, Finance and Cryptocurrency. Month focus is on the land purchase bill.
Read More »
In this series of articles, we examine the Japanese government's push to transform the private sector into a technological powerhouse.
Read More »