Suga Cabinet Profiles 2021
PM Suga picks his new cabinet, retaining many familiar faces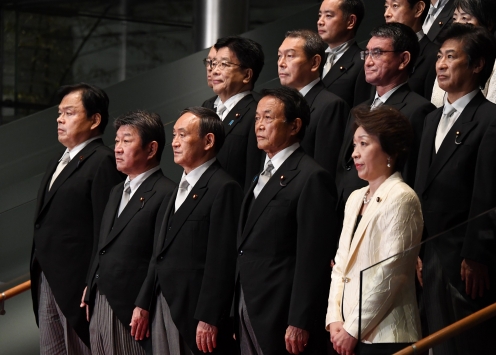 With a lot of familiar faces at familiar posts, the Suga cabinet contains few surprises. It is a clear indication of Suga's commitment to maintain Abe-era policies and priorities. It also reflects that this government is largely transitional. With a short timeline until the next general and presidential elections, Prime Minister Suga will be looking to secure his own mandate before he makes more sweeping changes to the government's leadership. Moreover, the Cabinet appointments demonstrate a balanced allocation of roles between factions, although the factions that did not support Suga in the leadership election definitely received the short end of the stick. It is important to note, however, that certain roles, such as those occupied by Minister Kono and Minister Hirai, have been imbued with newfound importance given PM Suga's stated desires for administrative reform and digital transformation, respectively.
The following is a summary of the new cabinet formed by Prime Minister Suga Yoshihide on September 16, 2020, which as been updated to include Marukawa Tamayo replacing Hashimoto Seiko on February 18, 2021.
Prime Minister Suga Yoshihide
Japan's longest serving chief cabinet secretary, Suga became prime minister after a quick presidential election within the LDP. His public popularity has been rising since he unveiled the name of the new era, Reiwa. He is known for taking a keen interest in and influencing top appointments within Japan's bureaucracy, as well as for keeping a tight handle on the press. He has said that Japan will need to raise the consumption tax beyond 10%, and that he wants to continue the policies of Abenomics. He is a staunch advocate of government digitization, bureaucratic reform and rural development. His intentions for the LDP presidential election in 2021 remain unclear.
Deputy Prime Minister and Finance Minister Aso Taro (R)
As a close ally of former Prime Minister Abe Shinzo and the leader of a significant intra-party faction, Aso retained his post at the powerful Finance Ministry. As one of the main figures of the Abe administration throughout its tenure, Abe often solicited Aso's opinions on important issues like the consumption tax hikes or the timing of elections. His faction within the LDP has 55 members, including ministers Kono Taro, making it the second largest in the party.
Internal Affairs and Communications Minister Takeda Ryota
Takeda's first appointment to the cabinet was as chairman of the National Public Safety Commission last year. He also previously served as senior vice defense minister and as deputy secretary-general of the LDP. He is known for quick decision-making and the policies he put forward during his time as minister in charge of disaster management. As the minister overseeing telecommunications and the broadcasting industry, he will carry out Suga's goal of increasing competition among mobile carriers and lowering mobile fees. Takeda sees mobiles as a critical communications tool, and believes Japan must be on par with other developed nations by making mobile contracts easy to understand, acceptable and convenient.
Justice Minister Kamikawa Yoko
Kamikawa returns to the Justice Ministry for a third time, having served there most recently from 2017 to 2018. She previously served as minister of state for gender equality and social affairs twice. She has also overseen the most executions since 1993. As chairwoman of the LDP's Research Commission on the Judicial System, she also proposed strengthening anti-sex crime measures, including using GPS devices to monitor convicted offenders' movements. The new justice minister also wants to further support foreign communities in Japan, and has herself researched multicultural co-existence prior to entering politics. She is a member of the Kishida faction.
Foreign Minister Motegi Toshimitsu (R)
Motegi has previously served as the Minister of Economic Revitalization, as well as the minister in charge of Okinawa and the Northern Territories. He was also the chief negotiator in charge of reaching the speedy conclusion of trade negotiations with the Trump administration in the U.S. He also played a significant role in the renegotiation and ratification of the Trans-Pacific Partnership. As foreign minister in the Abe administration, he negotiated the U.K.-Japan Free Trade Agreement, securing Japan a favorable position with regard to cutting state aid to the private sector. He belongs to the Takeshita faction.
Education, Culture, Sports, Science and Technology Minister Hagiuda Koichi (R)
Hagiuda also kept his role in the cabinet. He is very close to Suga, having served as his deputy chief cabinet secretary. As an LDP executive deputy secretary-general, he has also served as a special adviser to the prime minister from 2013 to 2015. He played a significant role during the new coronavirus pandemic in working to ensure schools could safely reopen. He has also sought to change university entrance examinations by outsourcing English tests and excluding open questions from exams. He is a member of Nippon Kaigi, holding very conservative views of history and society. He is a member of the Hosoda faction, the faction that has been led by Abe, and the largest in the LDP.
Health, Labour and Welfare Minister Tamura Norihisa
Tamura returns to the portfolio he held from 2012 to 2014. Recently he headed the LDP's task force responsible for the government's response to the pandemic. He previously served as vice-health minister and his policy interests focus on employment and social security. Like Suga, Tamura advocates increasing employment and wages by promoting local economies. After becoming health minister, he said his priority is to fight the coronavirus and to ease people's anxiety about the pandemic. He also said the government should be able to conduct 100,000 PCR tests per day. He will also study the possibility of covering fertility treatments with public insurance, a plan initially suggested by Suga. He is a member of the Ishiba faction.
Agriculture, Forestry and Fisheries Minister Nogami Kotaro
Securing his first cabinet post, Nogami was a former deputy chief cabinet secretary for three years under Suga and is a member of the House of Councillors. He is highly regarded for his ability to coordinate policy and for filling Suga's role when required. Nogami was on the upper house's committee on the budget, general affairs and the constitution. As deputy chief cabinet secretary, he spent much of his time on foreign policy. He is a member of the Hosoda faction.
Economy, Trade and Industry Minister Kajiyama Hiroshi (R)
Kajiyama continues his tenure as METI minister. He has already served in the cabinet as the state minister of regional revitalization and regulatory reform in 2017, and as minister of land, infrastructure, transport and tourism in 2012. In the past he has pledged to carry out regulatory reform to increase private sector activities, and has also eyed reforming the employment system. As METI minister he has executed a revolutionary shift in the energy sector by abandoning the ministry's defense of coal in favor of renewables, matching the efforts of the Ministry of the Environment in this field for the first time. He is very close to Suga, and like Suga does not belong to any faction.
Land, Infrastructure, Transport and Tourism Minister Akaba Kazuyoshi (R) (Komeito)
Another minister keeping his position, Akaba is the only member of the cabinet to belong to Komeito, the LDP's junior coalition partner. Komeito lawmakers have led MLIT since Abe took power in 2012. But Akaba has deep policy expertise in the field, as he has previously headed the lower house's committee on land and transport. He wants to bolster disaster management by passing numerous laws, as well as reform of the transportation system for the Tokyo Olympics. He was also responsible for the Go To Travel campaign, which saw a record number of domestic tourism despite the coronavirus pandemic. He is also in charge of integrated resorts.
Environment Minister Koizumi Shinjiro (R)
Koizumi also continues in his position at the Environment Ministry. Determined to make the fight against climate change "sexy," he wants to see Japan take the lead in reducing marine and plastic waste, and he advanced numerous proposals on this topic. He is firmly opposed to nuclear energy and would like to see more nuclear reactors decommissioned. He has headed the LDP's Health and Labor Committee and is known within the party and to the public as a relatively progressive figure. He distanced himself from the Abe administration in favor of other personalities within the party, and he was able to influence a change at METI in favor of greener policies. He is not a member of any LDP faction.
Defense Minister Kishi Nobuo
The grandson of former Prime Minister Kishi Nobusuke and younger brother of Abe, Kishi's first position in the cabinet will be defense minister. He succeeds Kono Taro in a field with which he is very familiar — he previously served as parliamentary vice defense minister under the Fukuda and Aso governments. More recently, he served as senior vice foreign minister under the Abe administration. He favors keeping tabs on North Korea through a defense missile system and reducing Japan's reliance on the U.S. military. The Defense Ministry was in the midst of creating a new National Security Strategy, meaning that Kishi will have a big influence on the future direction of defense and security policies, such as strike capabilities, weapons sales agreements and so on. He may create friction with China, as he has met several times with the President of Taiwan. Chinese officials are hopeful that he will refrain from doing so during his term as defense minister. He is a member of the Hosoda faction.
Chief Cabinet Secretary and Minister in charge of the abduction issue Kato Katsunobu
The former health minister will change roles to lead the Cabinet Secretariat. A few years ago, Kato also served as the head of the LDP's general council, a prestigious post given only to senior lawmakers. He is close to Suga, having served as deputy chief cabinet secretary from 2012 to 2015. As health minister, he was a key figure in the government's response to the coronavirus pandemic. He belongs to the Takeshita faction, and reports claim that he is being considered within the party as a future candidate for prime minister.
Reconstruction Minister Hirasawa Katsuei
An eight-term member of the House of Representatives, Hirasawa's first cabinet post will be minister of disaster reconstruction. He is proficient on security and foreign affairs issues. During his career, he has spent a significant amount of time and effort on the abductee issue. He is a member of the Nikai faction.
Chairman of the National Public Safety Commission, Minister in charge of disaster management Okonogi Hachiro
This will be Okonogi's second stint in this position, having held the post from 2017 to 2018. Previously he oversaw the preparation for and reconstruction after the Jebi Typhoon, which caused heavy damage in the Kansai Area. Suga started his political career as a secretary for Okonogi's father, who was a former construction minister. He has known Suga since elementary school and directed Suga's bid to become president of the LDP. Okonogi is not known for his public appearances, but rather his behind-the-scenes work through informal politics. This earned him the LDP's acting Diet affairs chief title. He also served as the youngest senior vice minister of economy under Koizumi Junichiro. Like the Suga, he is not a member of any faction.
Minister for promoting dynamic engagement of all citizens, Minister in charge of regional revitalization, and Minister in charge of measures for declining birthrate Sakamoto Tetsushi
Sakamoto lands his first cabinet post as the minister in charge of regional revitalization, measures for the declining birthrate and the dynamic engagement of all citizens. These are policy areas highlighted by Suga, who is eager to promote growth in local economies, as well as counter the declining birth rate by including fertility treatments in the public insurance program. Sakamoto was deeply influenced by the damage caused by the 2016 earthquake in Kumamoto, his home constituency, and has devoted himself to helping the region recover ever since. He previously served as state minister for internal affairs and communications and as state minister of the Cabinet Office. He is a member of the Ishihara faction.
Minister in charge of economic revitalization and Minister in charge of measures for the novel coronavirus pandemic Nishimura Yasutoshi (R)
Nishimura retains his portfolio within the new administration, highlighting the government's determination to continue in the same direction in responding to the pandemic. He was the most important actor in the government when it came to coronavirus policies and the revitalization of the economy. A career-track bureaucrat, he was also state minister of the Cabinet Office and deputy chairperson of the LDP's Policy Research Council. He contested Tanigaki Sadakazu in the party's 2009 presidential election, but lost. His interests include finance and trade policy, foreign affairs and energy policy. He is affiliated with Nippon Kaigi and belongs to the Hosoda faction.
Minister in charge of administrative reform, Minister in charge of regulatory reform and Minister in charge of vaccination efforts Kono Taro
Kono is reappointed to the cabinet as minister in charge of administrative reform. During his tenure as foreign minister he visited many countries, relaunched the relationship between the U.S. and Japan and handled the diplomatic rift with South Korea. As defense minister, he sought to modernize Japan's armed forces by creating or expanding numerous divisions in electronic, cyber and space defense. While his new position may at first seem a demotion, administrative and regulatory reform is at the heart of the new administration's goals, leaving Kono with greater sway than this post offered in the past. He has also been put in charge of Japan's vaccination efforts, which if proven successful, may lead him to more important cabinet roles. Often termed a "maverick," he is open about his policy views and active on social media platforms — uncommon traits for a Japanese politician. He supports a more flexible immigration system, and he belongs to the Aso faction in the LDP.
Minister for the Tokyo Olympic and Paralympic Games, Minister in charge of women's empowerment and Minister in charge of gender equality Marukawa Tamayo
Marukawa Tamayo has taken over as the new Olympics minister, replacing Hashimoto Seiko, who now heads the organizing committee of the Tokyo Olympics. She has also become the minister in charge on women's empowerment and gender equality, an area she deems is only halfway to where it needs to be. Marukawa was the Olympics Minister from 2016 to 2017, and Environment Minister from 2015 to 2016, both under the Premiership of Abe Shinzo. Until she was once again appointed Olympics minister, she sat on the Upper House's Committee on Environment and the Special Committee on the North Korean Abduction Issue, and was the head of the LDP's public relations. Upon taking her new role, she pledged to prioritize measures to combat the pandemic to ensure the games are held safely.
Minister for the 2025 World Exposition in Osaka, Minister in charge of consumer affairs and food safety and Minister in charge of Space Policy Inoue Shinji
This sixth-term member of the House of Representatives enters the cabinet for the first time, with a goal of beefing up preparations for the 2025 World Exposition in Osaka. He served twice as senior environment minister between 2012 and 2016, overseeing the government's response to the Fukushima nuclear disaster. Before his career in politics he was a civil servant in the Ministry of Construction. He is a member of the Aso faction.
Minister in charge of digital reform and Minister in charge of social security and tax number system Hirai Takuya
The former minister in charge of information technology policy and former minister of state for science and technology policy, Hirai is the first to head the newly created Digital Agency. He is a firm advocate of a paperless society and the use of data technology. The creation of a digital government and society is one of Suga's prioritized policies, meaning that Hirai will hold an important portfolio in the new cabinet. He is also one of the biggest proponents of blockchain technology — last year he was one of the creators of the law legalizing cryptocurrency exchanges. He also drafted Japan's basic cybersecurity law and is part of the Fintech Promotion Parliamentarians' Federation. He is a member of the Kishida faction.
Companies must have a full understanding of Japan's unique regulatory dynamics and policy-making process to conduct effective advocacy. With over 30 years of experience in the field, Langley Esquire can serve as your partner in public policy in Japan, and make sure that your concerns reach the right stakeholders in government.
If you face challenges in implementing effective government affairs, contact us to learn more about how we can support you.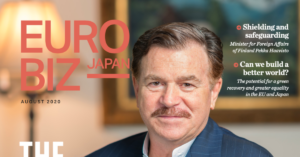 Timothy Langley, CEO of Langley Esquire, was interviewed for the August 2020 issue of Eurobiz Japan, the business magazine of the European Business Council (EBC) and EU Chamber of Commerce in Japan.
Read More »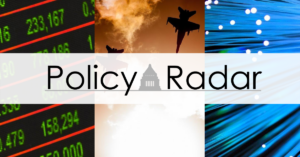 This month's edition of Policy Radar focuses on policy developments in the Technology, Defense, Finance and Energy.
Read More »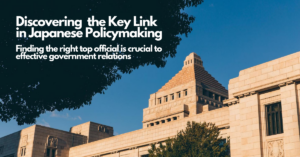 Understanding and accessing the civil service is crucial to successful government relations in Japan. Career bureaucrats at the government agencies and ministries are among the most influential policymakers in the country.
Read More »