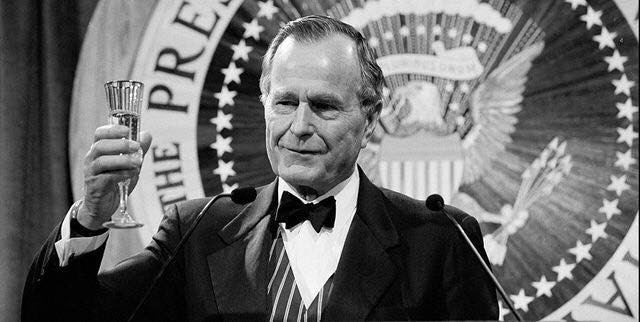 My Memory of George H.W. Bush
Timothy Langley, President & Representative Director
On this day two years ago, George H.W. Bush passed away at his home in Houston, Texas. I was fortunate to spend an entire week in close-quarters with America's 41st president during his first visit to Japan after leaving office. It is an experience that I'll never forget.
He was truly a great man – Ambassador to China, head of the CIA, Vice President, and then President! But nonetheless he remained a warm and down-to-earth person.
President Bush visited Tokyo in 1995, and I was hired to organize and manage his five-day visit, essentially serving as his Chief-of-Staff. Simply advancing his itinerary, which included walking each venue with a phalanx of Secret Service agents twice, occupied three weeks. Then I met the President upon his arrival and briefed him in his penthouse suite (one that I had to snatch from the Sultan of Brunei, who was visiting at the same time!).
"Why don't you join me for breakfast so we can talk about the week in front of us?" And with that, our relationship flourished. I did not know it then, but he had some surprises in mind that he hadn't shared with anyone else.
At that point, the schedule was manageable and had already been advanced. But I quickly learned that "whatever the Man wants, he gets…" and all of my careful planning over the previous three weeks was about to get turned upside-down. I didn't think about it then but the way he asked me, almost like a tease, should have signaled that showtime was quickly approaching… and he knew I was the one who was supposed to make it happen.
Over toast and eggs, I briefed him on the schedule while he browsed the morning's Japan Times, almost as if not listening. When I finished, the president peered at me and I noticed for the first time that his eyes were deep blue: "Well, it looks like we have some openings throughout the week, doesn't it, Langley?"
He said that last word as if he relished it, as if it was funny in an ironic way. He called me by my last name the entire time, but I didn't mind at all. It gave me enormous, if undeserved, credibility with the eight-person Secret Service detail and the many onlookers in hearing range!
As I was preparing myself for his request to organize a shopping visit for gifts, he added, "I see from this morning's paper that the Emperor seems to be in town. He is such a warm and wonderful person. I'd like to see Him. Do you think you can arrange that?"
I was actually stunned. Meet the Emperor, without a 6 month advance? Just ring him up?! "Yes sir, please let me see what I can do…" tumbled out of my mouth as if I was a puppet dancing on someone else's strings.
And before I could recover, he continued as if we were discussing the weather, "And I really should say hello to the current Prime Minister… who is he again?"
"Tomiichi Murayama, sir," I answered, hoping that was the end of it. "Great, please see what you can do." It was not really a request, just a matter-of-fact statement.
"And the former Prime Minister, Keiichi Miyazawa. We are good friends you know? He knows I am coming, so he should expect your call. I'd like to have dinner with him and his family. Please set that up."
Unbelievably, he actually went on from there: the Foreign Minister, the former Foreign Minister, the visiting Polish head of state – none other than Lech Wałęsa, LDP powerbroker Ichiro Ozawa, U.S. Ambassador Mondale – my head swooned.
Despite the lack of notice, and the fact that I was stuck inside the 8-person, 7-car motorcade, I was able to arrange every meeting that the President wanted. Those 8 additional high-level meetings, were on top of the fastidiously advanced, six-event standing schedule over the remaining five days (this being day one!). All of this was possible only for one reason: because it was Bush.
What a great man, what a great experience! Rest in peace Papa Bush.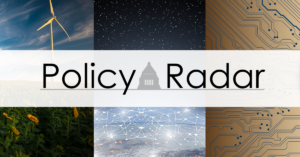 This month's edition of Policy Radar focuses on policy developments in Cryptocurrency, Technology and Energy.
Read More »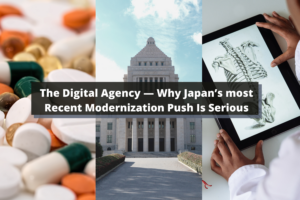 Suga to have a digital agency up and running by the end of 2021. Each ministry previously tackled digitization independently, leading to varying levels of success and end products, and no standardized administrative framework. The new agency will coordinate and unify efforts to modernize government services.
Read More »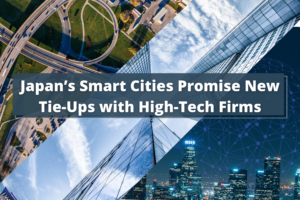 In June the Japanese Diet passed legislation governing the creation and management of smart cities — urban centers that use cutting-edge technology to improve livability and convenience.
Read More »