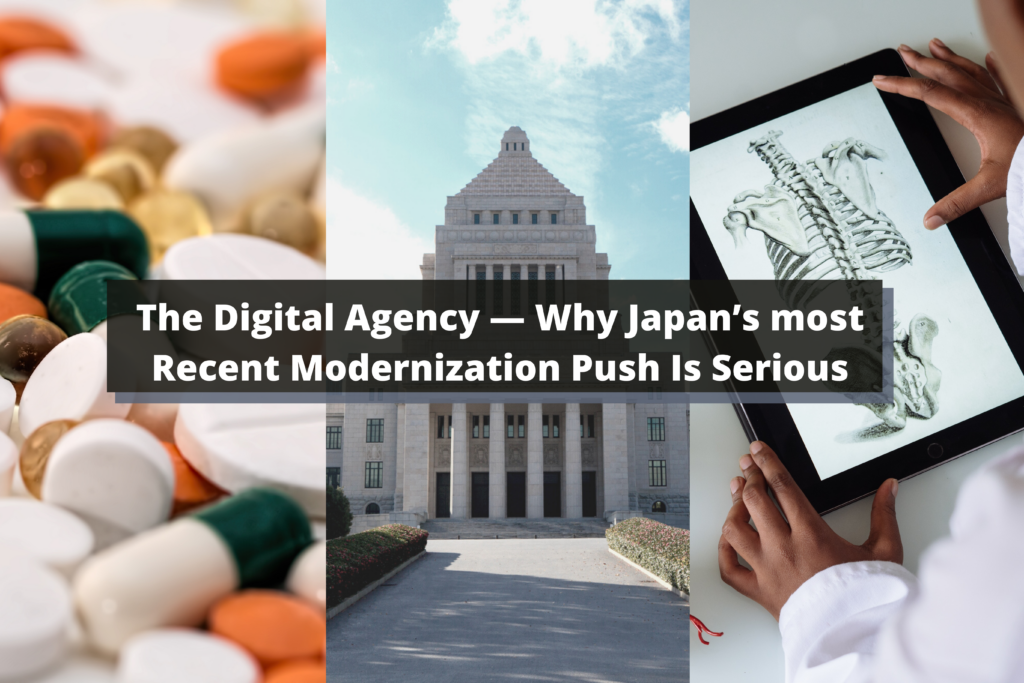 The Digital Agency — Why Japan's most Recent Modernization Push Is Serious
Suga vows to "break bureaucratic sectionalism and carry out bold regulatory reforms"
DATE: October, 22nd, 2020.

Prime Minister Suga Yoshihide intends to make good on decades of promises to digitize and modernize Japan's sclerotic administration. He has staked a large amount of political capital and administrative energy on a project that has thwarted many leaders before him.
Suga wants to have a digital agency up and running by the end of 2021. Each ministry previously tackled digitization independently, leading to varying levels of success and end products, and no standardized administrative framework. The new agency will coordinate and unify efforts to modernize government services.
Japan could benefit greatly from a more streamlined approach to digitization. The government has lagged its counterparts in other developed countries in modernizing its services. According to the Japan Research Institute, only 12% of administrative work is carried through online platforms. Bringing more of it online would improve efficiency and cut administrative costs. Digitizing administrative processes could save 2 trillion yen ($19 billion), as well as ease Japan's chronic labor shortage and boost capital investment, according to the Japan Association of New Economy.
A new digital policy team headed by Shimomura Hakubun has also been set up within the ruling Liberal Democratic Party to assist with the creation of the agency. It will include the chairman of the LDP's Research Commission on the Tax System Amari Akira and its first discussions will revolve around whether the agency can effectively exercise control and oversight over other ministries and agencies. The LDP's digital policy team will be split into five different subcomittees: cybersecurity My Number identification system, data usage, digital policy research and local and national governments' information systems. The team will compile a set of interim proposals in mid November.
In the meantime a preparatory office for the digital agency has already been set up, staffed with 40 to 50 experts from the private sector. Hirai Takuya, minister of digital transformation and a cryptocurrency and fintech enthusiast, is creating a roadmap for the agency's formal establishment and its legislative plans for the Diet session that will start in January 2021 10 bills associated with the establishment of the agency will be introduced. The plan calls for the agency to be fully functional by fall 2021.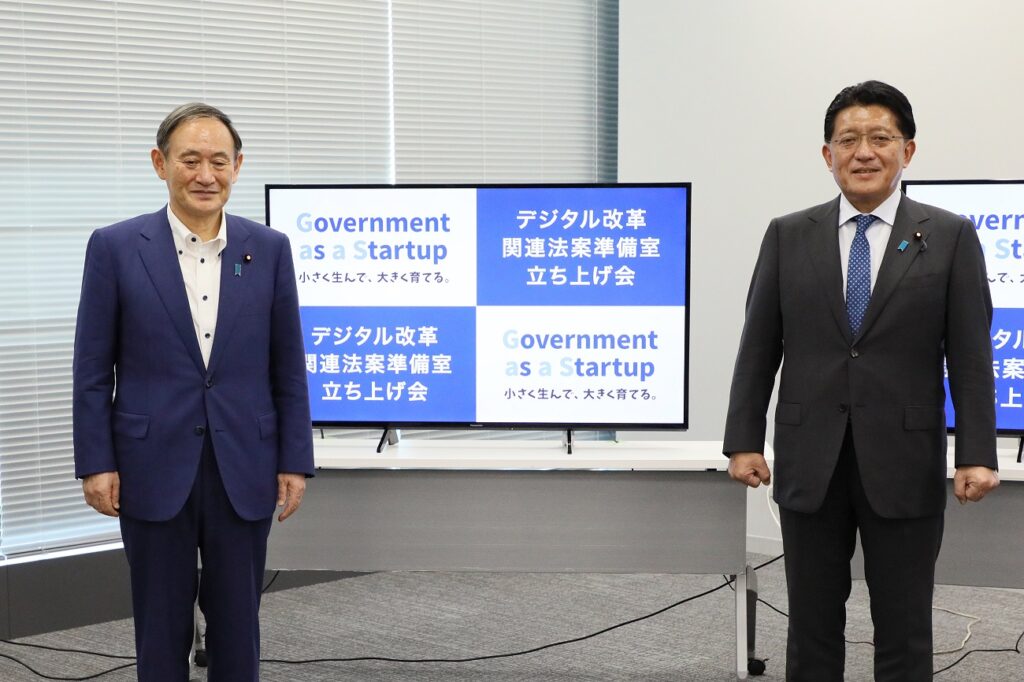 Minister Hirai will need to explain what the government means by "digital transformation." He must quickly identify policy areas where people can feel the benefits of digitization so the term does not become abstract and devoid of real meaning. There are many fields that could benefit from digitization — education and banking, among others. But with the new coronavirus pandemic, modernized healthcare services have become vitally important.
Hospitals were sending coronavirus statistics by faxing handwritten forms, online processing of government subsidies lagged and the government was unable to process demand for the same My Number cards that give access to online services. Since the "e-Japan Strategy" was launched in 2001, medicine and welfare services have made the least progress in digitization.
Telemedicine was approved for temporary use during the pandemic, but now the government wants to make the change permanent. Currently patients are able to see doctors online and physicians can prescribe medicine through an online system. There is also a proposal to abolish the requirement that pharmacists instruct patients about their medicine in person.
Healthcare industry groups, however, are not receptive to the change. The Japan Medical Association is firmly against making telemedicine permanent, and pharmacists see the government's push as favoring generalist drug stores. As the government tries to move forward with digitization in other sectors, it is likely to face similar resistance.
The ruling Liberal Democratic Party will need to find a balance between industry group priorities and the government's digitization drive. The LDP has strong industry ties that will help mediate between the private sector and the government, but it will face considerable pressure from the healthcare industry. Health Minister Tamura Norihisa, an expert on healthcare issues, will need to exert some influence to assert the government's position.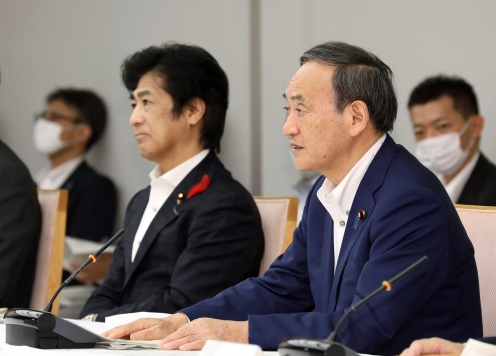 Along with the private sector, the government is also focused on digitizing government services, an initiative that will fall under the purview of the Council for Promotion of Regulatory Reform. It will soon begin discussing a four-step plan: scrapping hanko stamps, eliminating requirements for in-person paper fillings, removing residential requirements for certain jobs and the digitization of tax and insurance government services. Like the digital agency, the Council will need to work with the private sector to work on the details of the plan.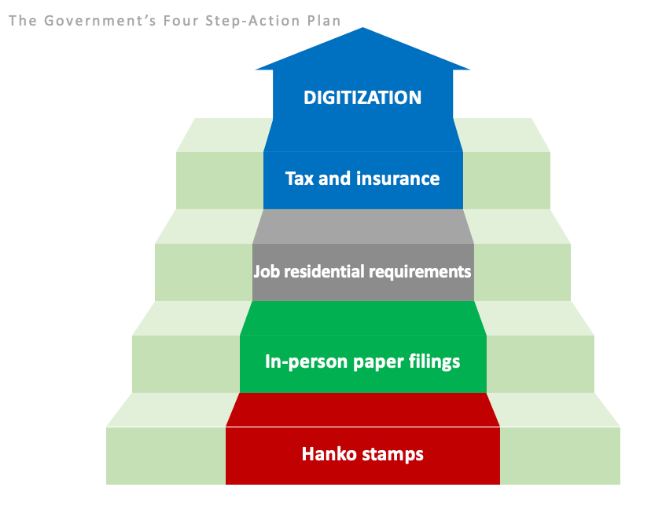 The government will submit a legislation package at the start of next year's Diet session to hasten regulatory reform and the digitization of government services. Telemedicine and other healthcare and education reforms may take longer as officials look for consensus with the affected industries. It is clear at this point that the Suga administration is taking the push seriously, and digitization may go from being a buzzword defining the Suga government.
As the government moves to modernize its services, it will rely on advice and guidance from the private sector. Numerous opportunities for public comment and consultation will arise during the implementation process. If you are interested in participating in Japan's digitization, contact us to see how you can get involved.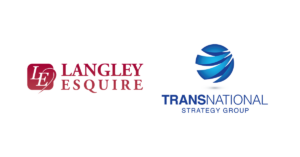 New service will assist firms in Japan and the U.S. to enter each other's markets and understand and shape policy environments.
Read More »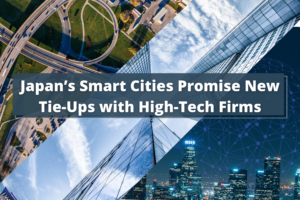 In June the Japanese Diet passed legislation governing the creation and management of smart cities — urban centers that use cutting-edge technology to improve livability and convenience.
Read More »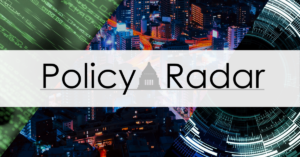 This month's edition of Policy Radar focuses on policy developments in Technology, Finance and Energy.
Read More »